ABOUT US
---

VISION
Ensuring the future of craftsmanship and the pursuit of perfection.
MISSION
To design and build the world's finest wooden boats.
---
Steve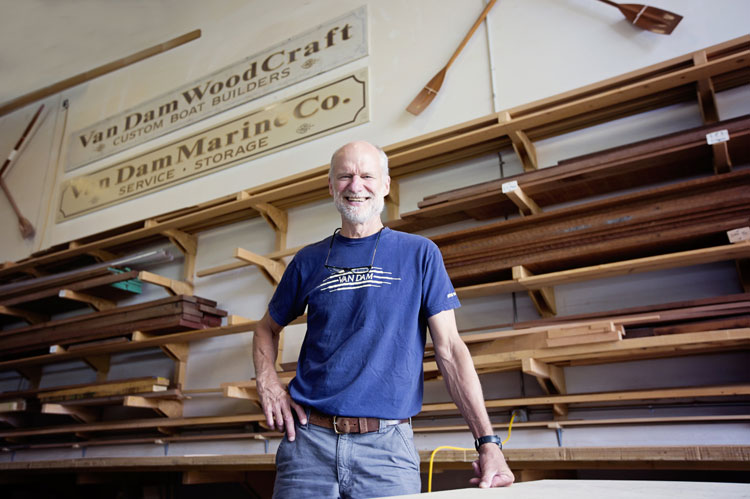 Co-Founder
Trained as a wooden boatbuilder in the early 1970's with one of the pioneers of epoxy and wood boatbuilding in North America, Steve, along with his wife Jean, started Van Dam Custom Boats in 1977. Together they built their first small shop and never looked back. Even though they are stepping back from their operational roles, their energy and passion still pervades every area of the business. While son Ben has taken over responsibility for shop operations, culture and finance, Steve is still focused on keeping their order book full and developing new business ventures around their core of custom boats.
However, everyone knows that Steve is still checking out everything that goes out the door and is constantly challenging the entire team to never give up its pursuit of perfection.  Constant improvement has been engrained in the Van Dam Culture since the day it was founded.
Steve and Jean have been married since 1972 and have never lost their love for each other and the enterprise they founded together. They have two children, Ben, who is now president of Van Dam Custom Boats, and Brie who is a scientist in Alaska. When not working, Steve takes great pleasure in helping his children with whatever projects they may have and building fun stuff for their home. He loves to race on his cross country skis in the winter, race his mountain bike and bicycle tour with Jean in the summer, and can usually be found at the front of the starting line for one or two 10k foot races each year.
Jean
Co-Founder
Growing up in northern Michigan, Jean taught sailing in the summer and skiing in the winters through high school and college. She graduated with a degree in education, but after marrying Steve (and not being able to teach him anything) she decided to pursue a career in the health field to pay the bills while Steve worked at getting their fledgling business in operation and profitable. After the birth of she and Steve's two children, she made a decision to become more active in the business management of Van Dam Custom Boats. Balancing family life and managing a business has been a challenging and rewarding experience, as every working mother can attest.
Jean still keeps all the finances on track and organized but now spends more time pursuing her volunteer interests and helping to care for her new granddaughter.
Jean has volunteered her time for the local Women's Resource Center, which offers assistance to women and children who need support. She has served on the board of the local Community Foundation and she currently serves on the board of Raven Hill Discovery Center, whose focus is exposing children and adults to the connections between science, history, and art.
After all that, she can still be seen with Steve riding her bike in the summer and cross country ski racing in the winter. She's even won her age group in the prestigious American Birkebeiner cross country ski race! The only things she does better than skiing are making killer muffins and spoiling her kids.
Ben
President
From riding on his dad's back as a small child, to building an 8' One Day row boat with his dad at 5 years old, to sweeping the shop after school in grade school, Ben was always around the Van Dam shop. These exposures as a child left lasting impressions as he observed skilled craftsmen pursue their trade. Thanks to this, Ben had his first serious talk with his dad about the appropriateness of "shop talk" at a very young age. Ben "officially" started working at the business in his early teens, developing his skills as he grew. In high school, if he wasn't playing hockey or sailing competitively, Ben was working in the shop.
Somewhere along the way Ben realized that boatbuilding was in his blood, and this led him to the University of Michigan and a degree in Naval Architecture and Marine Engineering. While there he continued to sail competitively and worked in the Hydrodynamics laboratory tow tank. Between his junior and senior year, he did an internship in a yacht design office in New Zealand. In Ben's senior year, he and his two teammates won the International Workboat/Small Craft/Yacht Design Competition awarded by American Boat and Yacht Council (ABYC) and The Society of Naval Architects and Marine Engineers (SNAME). However, when he's asked about the best part of his U of M experience, he declares it was meeting his wife Erika in their last year of school.
After graduation, Ben spent his first few years at Van Dam working under several project managers, until in 2008 he became a project manager himself. Ben's formal education has added technical depth to his hands-on training, and he is a big contributor to Van Dam's constant push for perfection in everything.
In January 2016, Ben was named President of Van Dam Custom Boats, bringing new energy and passion to the leadership team as Van Dam charts its course for the future.
In his spare time Ben enjoys training and participating in triathlons, working on the house he and Erika are building and spending time with his daughter, who they welcomed in February 2016.
Born in: Harbor Springs, Michigan
Graduated: University of Michigan
Favorite projects to work on: Anything unique with a goal of being second to none
ABYC certified in Marine Systems
ABYC certified in Marine Corrosion
Mastercam certified
Dave
Project Lead
Dave's roots with Van Dam are definitely worthy of mention; Dave began building boats professionally with Steve Van Dam in 1987. Dave was in fact the youngest employee at Van Dam at that time.
Dave remained with Van Dam until 1993, at which time he decided to take a sabbatical from his responsibilities at Van Dam. Dave chose to transfer his skills of handcrafted woodworking to homeowners, whose refined tastes for custom high-end woodworking he could fulfill, a skill that he continues to this day.
Dave made his return to Van Dam in 2013 and now is fond of stating, "When I first started in 1987 I was the youngest member of the crew, and when I returned in 2013, I was the oldest!"
As if Dave's woodworking skills and demands are not enough to occupy his time, he has been involved in the rescue of abandoned Doberman Pinchers since 1977. Dave and his wife Cheryl volunteer their time with the Exceptional Riders Program, a human service organization for the mentally and physically challenged persons of all ages.
Dave is a graduate of the University of Michigan-Flint, where he earned his B.A. while majoring in Physics with a minor in math.
Started at Van Dam: The first time in 1987 and returned in 2013
Born in: Flint, Michigan
Graduated: University of Michigan-Flint
Favorite Projects to work on: Dave likes a little bit of everything
Trevor
Paint Shop Foreman
Trevor's boat building experience began in high school, when he worked for a local boat builder during the summers. After high school Trevor worked for a marina and boat repair facility for 6 years, finally coming to Van Dam in 1993.
Trevor has been an integral part of each Van Dam boat, producing the mirror finishes that the company has come to be known for. Trevor's ability in the paint shop is unsurpassed, but he also fills in wherever the need arises – whether it be electrical, mechanical, or fitting planks on a new boat.
Trevor grew up near the water, fishing and hunting ducks. He enjoys teaching his daughter, Kyra, how to fly fish and tie flies. Trevor also enjoys gardening and canoeing, but his favorite past time is spending time with his wife, Carla and their daughter.
Started at Van Dam: 1993
Born in: Key West, Florida
Graduated: Marine City High School
Favorite projects to work on: If you ask him he enjoys everything about his job
Received BASF Glasuit 22/55/90 Line Systems certificate
Chad
Production Manager
Coming to Van Dam in 1994 as a 14-year-old high school student, Chad is a tale of dedication and determination. Throughout high school and some college Chad worked summers and after school at the shop, and then finally made the decision that he was ready for a career in boat building. In 2003, Chad became the first person to complete the formal apprenticeship program at Van Dam. He has worked in every facet of the building and maintenance processes. Chad is a highly skilled woodworker, but he is also very comfortable with the electrical, mechanical, and electronics installations that are a vital part of the custom boats at Van Dam.  In early 2011 Chad became the Shop manager and is responsible for keeping everything running smoothly and efficiently on the shop floor. In addition to this he is also a project manager overseeing the construction of an individual boat.
The constant shift through the various stages of building and accomplishing new things every day are a few of the reasons Chad chose this line of work.
Chad is an outdoorsman, an avid hunter, and enjoys everything from sailing to skiing to fishing. Chad and his wife Amanda have two sons, Porter and Weston, which they love to take boating on the Inland Waterways in the summer. He also enjoys home construction projects and always has one at going at home.
Started at Van Dam: 1994
Born in: Charlevoix, Michigan
Attended: Boyne City High School
Favorite projects to work on: Multiple projects at once
ABYC certified in Marine Systems
ABYC certified in Marine Electrical
ABYC certified in Marine Corrosion
Thor
Master Craftsman
Shortly after completing the Landing School of Boat Building and Design in 2002, Thor came to Van Dam. Thor is another one that wears many hats in the shop, his abilities include all facets of woodworking, electrical and mechanical installations, and some work in the metal shop. Thor's electrical work is very impressive, his wire runs and layouts are remarkable to say the least. Thor's attention to detail is obvious to anyone looking at his work.
Thor grew up on Washington Island, Wisconsin. His family owns the ferry line that runs to the main land. Thor has many hobbies and enjoys getting people to laugh. He is always smiling; customers and co-workers alike enjoy his humor.
Started at Van Dam: 2002
Born in: Green Bay, Wisconsin
Graduated: The Landing School of Boat Building and Design
Attended: Lawrence Technical University and studied philosophy
Favorite projects to work on: Small fancy projects and electronics
ABYC MASTER certified in Marine Systems, Marine Electrical & Marine Corrosion
Jesse
Metal Shop Foreman
Jess completed a one-year boatbuilding course at the Landing School of Boatbuilding and Design in 2002 and then began his career at Van Dam. He very quickly developed an aptitude for metal working, honing his skills on the lathe and mill, as well as developing the impressive ability of being able to TIG weld with either hand. Jess now does the majority of the metal work that you see done at Van Dam, including, but not limited to, the very impressive cutwaters. Jess is the "go to" guy for custom gadgetry and mechanisms in the shop. Jess's talents are not confined to the metal shop though, in his spare time one of his many interests are vegetable oil powered diesel engines, which he works on regularly. He also enjoys downhill skiing at local resorts. Jess gained some of his artistic abilities from his parents, who are both artists in western Michigan. Jess's latest challenge is getting the new CNC machine up and running.
Started at Van Dam: 2003
Born in: Montaque, Michigan
Graduated: Washtenaw Community College and the Landing School of Boatbuilding and Design
Favorite Projects to work on: Custom gadgetry and mechanisms
CNC programmer and operator
Mastercam certified
ABYC certified in Marine Systems
ABYC Certified in Marine Corrosion
Dave
Handyman & Grill Master
Dave Van Dam, Steve's brother, is a friendly face you see in the shop on Tuesdays. Dave comes in to help with the many on-going miscellaneous tasks in the shop.  Whatever needs to be done (including recycling) Dave makes sure it gets done. He also fires up the grill for company BBQs.
Receiving his Bachelor's degree from Hope College in 1963, Dave went on to get his Masters of Divinity from the Western Theological Seminary, becoming ordained in 1967. From 1967-2007 he was the Pastor/Minister for various churches in the Midwest.
Retirement has been anything but slow for Dave. He spends his time volunteering with Hospice of Little Traverse Bay, India Mission Network, and provides worship/resource leadership for local churches. He is also a teacher/administrator for Three Lakes Lay Academy. Dave and his wife, Penny, volunteer host Sonscape Ministries once a year in Divide, CO. He spends any spare time traveling, swimming, sailing, playing tennis, reading or writing. Most of all though, Dave and Penny enjoy the time they spend with their children and seven grandchildren.
Betsy
Finance and Human Resources
Betsy is a Michigan native and MSU grad who began calling Northern Michigan home nearly 30 years ago after a short stint in corporate life that took her to many and varied spots across the US. "No matter where the job took me, Michigan always called me home. There's no place like it".
She moved to northern Michigan in 1990 to open her first business and continued full-time business ownership until 2017 when, at the request of the Van Dam's, she gave up the "care-free ways of ownership" (HA!) and came on board to aid in retirement transitions and planning for the future. Her decision to leave ownership and become an employee was fueled entirely by the quality, focus and dedication of the team at Van Dam – "they all act as owners". Add to that the unquestionable uniqueness of the product, process, location, history and the sum-total is very much greater than its parts. "World's Finest" is not just a marketing catch phrase at Van Dam, it is something to which the ENTIRE team aspires.
Free time is spent with her husband Steve, dog Hudson (a fixture at the Van Dam office) and their "Northern Michigan Tribe"; riding mountain bikes, hiking, kayaking, camping, building and clearing trails with North Country Trail Association (NCT) and Top of Michigan Mountain Bike Association (TOMMBA). She also donates time to local service groups and the city of Boyne City.
Started at Van Dam: 2015 PT
Born in: Battle Creek, Michigan
Graduated: Michigan State University
Favorite Projects to work on: Process analysis and those related incremental, aha! changes that can help us move more efficiently as a company.
Charlie & Jeremy
Worldwide Sales
Charlie (left) comes to us from East Grand Rapids, MI via stops in Holland, MI and Lake Geneva, WI. After a year at MSU, Charlie learned his passions were elsewhere and followed his heart to all things water related. After several years at Melges Performance Sailboats building boats, time on the water racing said boats, and building an amazing life with his true love, Julie, and their 2 sons, Charlie brought his positive attitude and love of helping others to the Van Dam family and their consortium of companies. As president of Boyne Boat Yard, Charlie and his crew have actively cultivated a following that is spreading the good word of Boyne Boat Yard and their services daily.
Most recently, Charlie has become a valuable part of the worldwide sales team at Van Dam Custom Boats and is passionate about sharing the details of the 'one in the world' journey our craftsmanship represents.
In his free time, Charlie still enjoys racing sailboats, loves to ski and spending as much time with his family as humanly possible.
Started at Van Dam: 2015
Born in: East Grand Rapids, Michigan
Favorite Projects to work on: Making sailboats go faster
Jeremy (right) hails from Indian River, Michigan though born in San Jose, California. He brings his expertise in the marine industry to Van Dam Custom Boats and is an integral part of our new Sales team while also heading up the company's newest adventure…Boyne Yacht Sales. Jeremy graduated from Hope College with a degree in Psychology and enjoyed time on the ice as a member of their hockey team…also coaching for the school as part of his experience there. He and his wife and two daughters moved to northern Michigan from Holland to join the Van Dam family and became immediately engaged in the community here.
When asked what he likes about being a part of Van Dam, he says, "I love introducing people to our level of precision, craftsmanship and customization for the first time. We are the best kept secret in the boating world."
In his free time Jeremy enjoys mountain biking, hockey, skiing and of course, boating. He also loves time with his girls hiking the many beautiful locations in our area.
Started at Van Dam: 2017
Born in: San Jose, California
Graduated: Hope College
Favorite Projects to work on: Expanding the reach of Van Dam Custom Boats
Kim
Marketing
Kim is a northern Michigan native who calls Boyne City home after returning to the area from a two year venture in Grand Rapids. She brings to the table an extensive background in graphic design, print, direct mail and marketing…all of which were learned through on the job experiences. Graduating with an Associates Degree in Business from NCMC in Petoskey, Michigan, Kim went right to work in the field of commercial printing as a project coordinator and as a necessary aside to that position, is self taught in the area of graphic design. Her first design job over 30 years ago was for Van Dam Custom Boats' build – Patrician. You could say she has come full circle in her career. Website design/management and photography have been added to her portfolio since joining Van Dam and she is enjoying the challenge of learning new things.
When asked what she likes about being a part of Van Dam, she says, "The energy. The constant, positive, upward energy and the love of the craft. Coming to work is a joy, not a chore. I spend my days with some of the most amazing people on the planet."
In her free time Kim and her husband love boating, road trips and spending time with their large, blended family.
Started at Van Dam: 2016
Born in: Petoskey, Michigan
Graduated: NCMC
Favorite Projects to work on: Designing new pieces to promote the company, working with various media and preparing for the next event that will showcase the crews of Van Dam Custom Boats and Boyne Boat Yard.
David
Apprentice Craftsman
David, a Grand Rapids, Michigan native, graduated from Michigan Technological University with a degree in Computer Engineering. His education took him to Garmin in Kansas City as a software engineer creating GPS watches for triathletes. David became a member of the Kansas City Woodworkers Guild and really honed his fundamental woodworking skills. In 2015 he moved to Port Townsend, WA to attend the Northwest School of Wooden Boat Building, graduating in September of 2016 with an award of a Prothero Internship. This paid internship put David to work on a 36' traditional motor sailer called ​'Seabeast' ​that was in it's third year of construction by the school. He worked one on one with instructor Ben Kahn to complete the boat for its Launch in April 2017. At its completion, he loaded all of his tools and belongings into a U-Haul and drove across the country in three days to join the team at Van Dam.
David is an avid skier, downhill and both skate and classic cross country. He is an experienced backpacker with the PCT or AT is on his bucket list. He runs. A lot. With 3 full marathons under his belt. Mountain biking, being outside and to know things about my environment such as plant names, animal names, what's edible, etc. are also part of his hobby list, as well as sailing and fishing. David says his enthusiasm for cooking exceeds his skill, but he is getting better and better. Why boat building? It presents an endless series of problems to solve. He wanted to come to Van Dam because of their dedication to doing things the best they possibly could each time. David doesn't believe in a dream job…he believes in doing something he feels is worthwhile each day.
Started at Van Dam: 2016
Born in: Grand Rapids, Michigan
Graduated: Michigan Technological University
Favorite Projects to work on: Large structural projects such as frames, transoms and stringers
Nick
Metal Craftsman
Nick comes to Van Dam Custom Boats from Fowlerville, Michigan after the past several years in Detroit. His background is strong in many areas of the fabrication and machining processes. After three years working directly with a press brake and doing general fabrication, his most recent experience was as a Dream Consultant at TechShop Detroit. No, not analyzing dreams. TechShop Detroit, a collaborative effort with Ford product development, is a membership based maker's space for innovation…a place for creators and builders to have access to software, a machine shop, a wood shop, 3-D printers, etc. and to also have access to people like Nick to help them plan, shape and finish projects and products of all shapes and sizes. Nick also worked concurrently as a machinist in the aerospace shop at Williams International while working at TechShop Detroit. He is committed to learning and honing his craft.
Nick has a love of sailing and has continued racing here on Lake Charlevoix after years of racing sail boats in Detroit. He grew up riding BMX and Motocross bikes and is an avid snowboarder. He has recently taken up fly fishing and is excited that all of his hobbies fit perfectly with the northern Michigan way of life. Also in his free time he enjoys creating random metal pieces in the shop at Van Dam.
Started at Van Dam: 2017
Born in: Fowlerville, Michigan
Favorite Projects to work on: Metal turning and lathe work
Derek
Apprentice Craftsman
Derek, a northern Michigan native from Charlevoix, MI, graduated Summa Cum Laude from Petoskey High School in 2017. As our youngest apprentice, his education background is being shaped as we speak. He is diligently at work here in our four year apprentice program while also attending North Central Michigan College. When touting his status as Van Dam's most eligible bachelor, one of his current interests, cooking, could very well gain him brownie points on the dating front (no pun intended).
Derek is an avid hunter of deer, squirrel and goose and also enjoys fishing at a level of 'anything that bites' being his favorite catch. He also spends time on hobby projects like his 1995 Chevy K1500 truck and working on his 14' cedar strip canoe.
Started at Van Dam: June of 2017
Born in: Petoskey, Michigan
Favorite Project to work on: As a new Apprentice he will say 'not sanding' and is currently enjoying continued work in many areas aboard Italmas, the 44′ sailboat currently under construction.
Adam
Apprentice Craftsman
Adam, another northern Michigan native joining our crew, was raised in Cross Village, Michigan just north of Harbor Springs where he graduated from high school. While in school, he took classes in 3D Cad, drafting and woodworking. It seems his passion for handcrafted woodwork and the water were meant to cross paths as he has been spending time on the open waters of Lake Michigan since he was just weeks old.
Adam earned a degree from Specialized Bicycle Components University in 2006, expanding on his first job as a bike mechanic at the age of 15. He grew to be one of the area's best in that industry, and has only recently left after 18 years in the field to join the Van Dam crew.
With his family still in the Cross Village area, Adam is fortunate to be near family as he celebrates his July 3, 2018 engagement. The wedding is set for fall of 2019. There are a lot of exciting things happening in his life right now.
Adam enjoys mountain biking, kayaking, snowboarding and too many more outdoor activities to mention. If you do find him inside, he also enjoys reading history.
Started at Van Dam: June of 2018
Born in: Petoskey, Michigan
Favorite Project to work on: When not out riding his mountain bike, he enjoys upgrading it and as he is a very hands-on, self sufficient guy, he is currently learning about auto mechanics so he can repair his own vehicles. He also loves all things woodworking.
Ralph
Purchasing
Ralph joins Team Van Dam in the capacity of Purchasing Manager, adding this role to the new life he and his wife are carving out in Boyne City. Being in the process of remodeling his second home in our area, his experience in woodworking brings a much appreciated slant to an integral position in the company.
He and his wife of 43 years (and a successful Federal court reporter) are quite proud of their two children, raising them in the Owosso, MI area. They enjoy seeing them succeed as adults in Boston and Texas and cherish time with their grandchildren. Visiting family in differing areas of the United States and traveling for business/pleasure throughout his career have fed the travel bug he has acquired. Ralph is pleased to say that to date, he has enjoyed visiting and working in 11 countries in the Asia Pacific region, including a stint in Shanghai, China as a Director of Sales for a major automotive supply chain company. He and his wife love meeting new people in new places and the rewarding experiences that come from that.
Ralph holds a Masters Degree in Engineering and has held positions in several engineering, management and sales disciplines throughout the automotive industry. When asked what he will enjoy about his new role Ralph says, "It is extremely satisfying to be in a position that supports a team of craftsmen that build unique and world class wooden works of art.  As a boater my entire life, it is great to be working in an industry that makes people smile."
Started at Van Dam: 2019
Born in: Lansing, MI
Graduated: Michigan State University and Central Michigan University
Favorite projects to work on: Renovation and maintenance of the homes he lives in
Jason
Project Manager
Jason joins us as a Project Manager, fulfilling his dream of living in northern Michigan. Born in Royal Oak and raised in Grand Haven, Michigan, he has fond memories of spending many summers on Walloon Lake as a child. We are excited to welcome Jason, his wife Kim, and their 3 children as new residents of Boyne City as they have moved here from Ohio to become part of our community.
After graduating from Marine Mechanics Institute, Jason spent 15 years as a marine technician in Grand Haven with a focus on stern drives and personal watercraft. His most recent career experiences have been with high-speed lumber optimization and project management for a custom machine manufacturer in Ohio. Several trips to Sweden to further his training with optical lumber scanning not only advanced his knowledge and skill base but also allowed him to experience other cultures…something he found very interesting and memorable.
Jason enjoys snowboarding and skiing. Combine that with his marine background and a hobby of refinishing old furniture and it seems he found the perfect place to be…northern Michigan and Van Dam Custom Boats! And doesn't everyone have at least one unique quest in their life? Jason's love of old VW Bugs and Busses has him aspiring to restore one someday.
Started at Van Dam: 2019
Born in: Royal Oak, Michigan
Graduated: Marine Mechanics Institute
Favorite Projects to work on: Finding solutions to difficult problems and streamlining processes through organization and system implementation.